The Lifeline Adventure Series compels you to get out there and explore. The Lifeline Adventure Frame Bag is an essential companion on any trip. Stash your waterproofs, overshoes, lunch and other essentials that you want easy access to as you ride.
We like to ride our bikes and we like to explore. We believe you don't need to pay over the odds for the privalege and so we created the Lifeline Adventure Series of bags- maximising quality and design at a sensible price.
The bags are made from a Lightweight 300D Polyester Ripstop with TPU Coating and have a fully welded construction.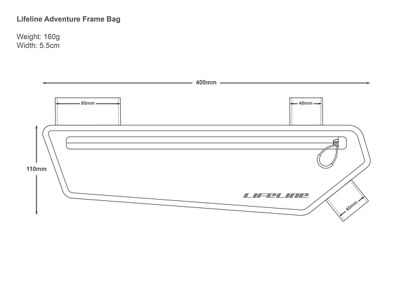 The Adventure Frame Bag mounts to the underside of the top tube and sits at the front of the bike. Its big enough to be useful and yet small enough to allow a 600ml water bottle to retain it's place on your downtube. The bag features a reflective Lifeline graphic and an easy pull zip and reflective puller helps with 'on the move' access. The zip garage provides added protection from the elements.
A cable entry/ exit point at the head of the bag allows for on the go charging.
The robust hypalon staps are sized to mimimise 'on the bike' interference, but maximise the bags stability- wide strap mounting to the top tube and narrower strap for the down tube.
We packed ours with a pair of overshoes, a rain jacket, some hydration tabs, a compass and a few snacks!
Read More